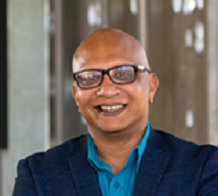 Professor Masemola worked at Unisa since 2011 after he joined from North-West University. With more than 18 years in academia, he has attained his PhD in English Literature from the University of Sheffield in England, graduated with an MA in Postcolonial Studies with flying colours from the then University of Natal, attained a
Vasu Reddy is a Professor of Sociology, and Dean of the Faculty of Humanities at the University of Pretoria, South Africa. He is a former Executive Director of the Human and Social Development Programme at the HRSC. He is a member of the Academy of Sciences of South Africa. He is a NRF B rated researcher with primary research interests in genders, sexualities, poverty and HIV/AIDS.
Apart from journal articles some book length publications include: Care in Context: Transnational Gender Perspectives (lead editor; HSRC Press); Queer in Africa: LGBTQI Identities, Citizenship and Activism (co-editor, 2018; Routledge); Queer Kinship: South African perspectives on the sexual politics of family-making and belonging (co-editor, UNISA Press & Routledge, in 2018).Recent publications are: The Fabric of Dissent: Public Intellectuals in SA (lead editor, HSRC Best Red; 2020) and Ethics, Politics, Inequality: New Directions (co-editor; HSRC Press, 2021).